Join Us for Service on Sunday at 10:00 am
Gamboa Union Church is a non-denominational congregation scripturally based on the Apostle's Creed and seeking to flow with the work of the Holy Spirit in the world today. We work very closely with Youth With A Mission located 30 minutes away which is also a non-denominational ministry mobilizing young people for world evangelism.
Gamboa Union Church has been involved in a variety of ministries over the years as the community and the canal area underwent changes. After the U.S. military left the Canal Zone in January 2000, almost 60% of the congregation left as well. Since then the Lord has brought together a congregation which includes many Wounan and Embera Indians who live up the river from Gamboa. Gamboa Union has also become the home church for Youth With A Mission. Tourists staying at the nearby resort are welcome to join us on Sunday mornings at 10:00 am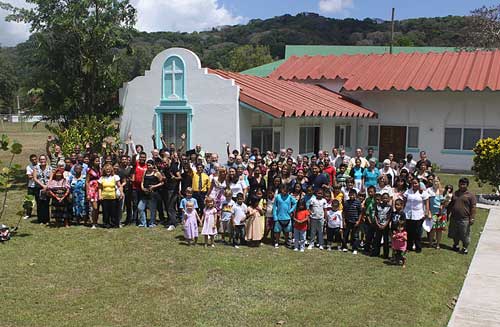 Celebration of the 60th Anniversary of the building of the church.