Pastor Bill Wilbur pastored the Westerlo Reformed Church in upstate New York from June 1970 to December 1975. His passion for overseas missions led him with his wife, Ann, and five year old twins, Becky and David, to Gamboa, Panama in 1976 to pastor an English speaking congregation in the former Panama Canal Zone.
Pastor Bill is now known throughout the Panama City area because of his daily radio program in English which is now in its 12th year. He has been ministering in the Renacer Prison near Gamboa for thirty years. Some of the story is told in his book Finding Freedom In Panama. This inspirational book tells of Pastor Wilbur's experiences of entering the prison for the first time and then the years that followed centering around the time of the invasion by the U.S. Forces in Dec. 1989. Sixty-five of Gen. Noriega's officers were put in the Renacer prison and most became regulars at the weekly meetings.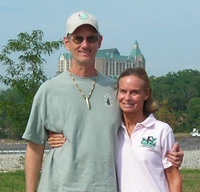 Pastor Bill has ministered in a variety of inter-denominational situations including the U.S. National Parks and InterVarsity Christian Fellowship with college students in Eastern N.Y. He received his BA in physics from Syracuse University and has his Masters of Divinity and Doctorate in Ministry. He did his thesis on the subject of coping with stress as a result of the Panama Canal Treaty.